check out my new album: "Night Music"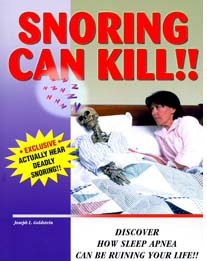 snore or be snored!
i was awoken the other night at 3 am by the sounds of water buffalo mating in my room. i turned with a jolt expecting to see a stampeding herd of angry large mammals, preparing to stomp my brains out. but, no. it was just my dainty bride,
snoring
like an out-of-tune oboe. as i lay there, impressed by the subtle acoustical skills that my wife had hitherto never evinced, it dawned on me that i was witnessing a performance for the ages! well, what does one do in such a circumstance? nudge one's wife in hopes that she stops snoring? NO! one documents! so in the disinterested pursuit of Truth, i thought it would only be prudent to whip out my tape recorder and save this mellifluous nose-music for posterity. people, that's just what i did.
gingerly, i held the mini tape recorder up to her nose. carefully, i pressed the crucial play-and-record button combination. with glee, i held my breath as she snorked into the mic as i lay motionless. in abject horror, i accidentally touched her face with my tape recorder. instantly i recoiled, fully expecting her to awake and witness the foul, foul thing that i was doing. but i was in luck! she slumbered on! and so the recording continued ...

the story does not end here, precious weensy friends of mine. nyet! since the in-laws were in town, i thought it would be unfair not to share the recording of their daughter's snores with them the following day. knowing how modest my wife can be about her talents, i was careful not to tell her what i was about to do. instead, as we were listening to Terry Gross talk to some guest about his birdcall recordings, i said to no one inparticular: "You know, on occasion I do a bit of field recording myself."

and with that, i whipped out the illicit tape and played mrs nice guy's nightsong back to her and her parents. and we laughed, oh how we laughed!

needless to say, my wife was very grateful to be married to someone as thoughtful as me. very grateful indeed.
UPDATE! mrs nice guy responds:
-----Original Message-----

From: nice guy, mrs

Sent: Wednesday, April 06, 2005 11:52 AM

To: nice guy, mr

Subject: Have I ever mentioned ...

How much I hate you ...