5.5 months and countin'
so another week another sonogram. this time the thrill of the new was gone. the delight in the mystery of life was no longer a novel thing. yeah, yeah, that's the baby. great. old hat. we're pros. profile of kid sucking thumb? got that (top pic). image of baby's arm, grasping helplessly for aid as a miasma of poisonous uterine cloud envelops its helpless frame? got that too (bottom pic)!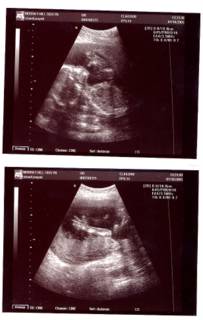 stone cold chillin' ... and drownin'?
again: i know what you're thinking. what the FUCK? one minute baby is maxin' and relaxin', thumb in its mouth--which we can see from the profile of its freakishly large head--and basically stone cold chillin'. you can tell: this kid is enjoying pre-life. but then! all of a sudden the toxic fog of wombfury seeps into the frame. and if you close your eyes you can almost hear the baby going "wha!? umf! motherfucker! help! ackgh! too ... young ... to drown!" honestly. where did baby go? did it dissolve? evaporate? the doctor seemed unphased, so i guess we should be too, but man, that was creepy. i like to think that in its final, panic-stricken moments it was waving to its mom and dad as if to say "so long and thanks for not drinking too much while i was in here."
actually, as usual, i joke. (please, dearest gods of karma, don't do anything ironically tragic to my unborn child, please! make me a donkey tic in my next life, if you must, but don't hurt my baby just because its father is a humorless turd. -- ed.) in all seriousness, the baby is exceedingly healthy. and, as you can tell from it's gorgeous profile (top pic) and supple fingers (bottom pic) clearly destined to be a supermodel and classical piano prodigy.
although, there was one thing that gave the nice guys a moment's pause: all through the ultrasound the kid kept kicking itself in the head. this is disconcerting. how brilliant a career as a concert pianist can one have if one starts life by kicking oneself repeatedly in the head? not too bright, i'd say.
UPDATE: frere nice guy has his own theory as to what the hell is going on in that bottom picture. to wit: that is clearly a gang sign that s/he is throwing up. word to that. time to incorporate a little NWA into the nightly musical roundup.