eating like gods in virginia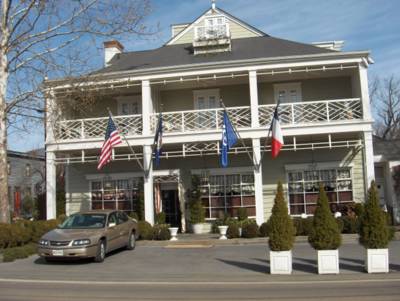 the inn is in
ok motherfuckers, you all asked for it. you want to know what an evening at the inn at little washington is like? the nice guys are going to tell you what our night, earlier this month, at the inn was like ... and you know what? YOU CAN'T HANDLE IT. but we're going to tell you anyhowever.
first of all. we arrive at the inn on a sunday, superbowl sunday, at approximately 3 pm. as we park our budget rental car (complete with yellow "support our troops" ribbon magnet ... sweet) next to the SUV in the baptist church parking lot directly facing the inn, no fewer than FOUR inn imps emerge, eager to help us with our bags, our perspicacity, our general orientation in life. and so into the inn we venture, where we are greeted with a flute of perfect regional sparkling wine mixed with passion fruit. my pregnant wife drinks it. yay. after a brief tour of the dining room we are guided to our bedchamber, an upgrade, the balcony of which you can see in the upper-left corner of the picture above. ADMIRE IT. the room: decidedly a monkey theme going on here. framed pictures of monkeys abound. an elaborate bed with an elaborate frame and elaborate hangings with leopards imprinted upon it and lots of many patterns -- paisley, bamboo stalks, monkeys, etc., very decadent. it is imperative we have sex in this room.
but first! the tea. we descend into the garden out back, where there is a koi pond with very large koi pond fishes in it. a tiny waterfall gently trickles. we sip tea, we laugh at each other, we eat the tiniest scones known to man, we ingest the best lemon custard filling ever concocted, shmeared onto our wee amuse bouches. it is all very good. another couple (big hair, dockers) comes out to the veranda and has tea nearby. they are nowhere close to as glamorous, sexy and wonderful as my wife and i.
we go upstairs! we nap! we shower! we don our finest finery. we go down into the dining room. even though the inn at little washington chooses to describe their dining room as "pure fantasy--a wondrous cocoon of luxury," it is nonetheless quite nice. no, we are never greeted by "a graceful dalmatian wearing a string of pearls," but that's ok since mrs nice guy promised me that if we were, she would kick it in the head. this would have been difficult to justify to the proprietor. anyway, the dining room. it was designed by your grandparents on acid. it's old-school through and through (silk lampshades, many patterns, many colors, many flowers, many fabrics) and it makes you wish your grandparents did some more decorating while they were on acid.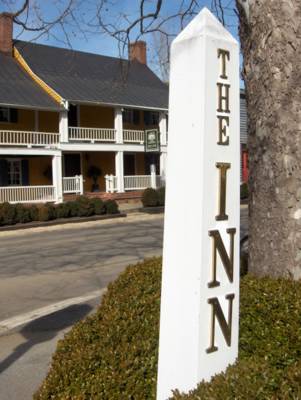 why are there so many fucking obelisks out here? goddamn freemasons.
but wait! the menu! the missus and i opt for the chef's tasting menu because, you know, patrick o'connell is god. basically. you feel bad for the baptist church across the street because you know the faithful that attend services at the inn are WAY more devout. printed on the top of the menu are the words: "Happy Birthday to Mr Nice Guy" and we know this is going to be good. we wonder if all the tables receive this same message, or if each menu is personalized ("Happy Anniversary" or "I Want Half and I Am Taking the Kids"). we opt for the tasting menu du jour. here's how it goes:
Shaved Confit of Duck Foie Gras on Brandied Cherries with Sauternes Jelly
(with a little taste of Pierre Sparr Gewurztraminer 'Sporen' from Alsace)
thinner than a slice of Kraft american cheese, this foie gras is transcendent. it melts in the mouth before your fork even gets it there. rich but not heavy; buttery but not pornographic. and you never knew toast could be this good. toast? this is toast from mount olympus. and incidentally, the sauternes jelly is tiny cubes of transparent sex. so good.
Poached Pullet Egg in Oxtail Consommme with Julienne Ham Country Ham and Black Truffles
(mr nice guy made the INSANELY DECLASSE move of wondering aloud to the waiter why he didn't get a new glass of wine with his poached pullet, only to be informed that the last glass was for the foie gras AND the egg. oops!)
anyway. this is the most impossibly delicate poached egg that ever was laid. this quivering deliciousness comes in a slightly salty oxtail sauce that is ... hang on ... dammit, my thesaurus is already running out of synonyms for "crazygood." the luscious ham makes it worth betraying the most observant of my people. PIG IS TASTY, y'all, deal with it.
Black Truffle Dusted Maine Diver's Scallop on Cauliflower Puree
(Domaine du Caillou Chateauneuf-du-Pape, Rhone, France 2002)
yes! more wine! also. this single buttery scallop, people, easily weighs three pounds. this is the BIGGEST SCALLOP EVER RECOVERED FROM THE SEA. and it is not "dusted," it is "filthy" with truffle. and what to say about the puree? if it were footfunk puree i reckon it wouldn't have mattered, there is just so much magic happening here.
Oven Roasted Quail on Creamy Polenta with Saute of Forest Mushrooms and Green Grapes
(Goldeneye Pinot Noir, Anderson Valley, California 2001)
basically, this is where superlatives and hyperbole begin to fray. what's to say about this wine other than it rocks the casbah? and the quail? i'd eat EVERY FORMER VICE-PRESIDENT if he dripped right off the bone like this bird does.
Braised Veal Cheek with Raviolis of Virginia Country Ham
(Marchesi di Barolo 'Gia Opera Pla Barolo', Piedmont, Italy 1999)
mrs nice guy does not approve of the veal. you know what? that meant TWICE AS MUCH TORTURED BABY CALFCHEEK FOR ME. this is meat genetically engineered for people without teeth. so rich, so juicy, so tender, so x-rated. i am beginning to feel sorry for the rest of humanity simply because they aren't me.
Truffle Cheesecake
mr nice guy would happily refrain from ever perusing the internet for cheesecake again if it were even once as rewarding as eating this sublime creamgasm. the cheese lands softly before me, a sliver of truffle cut down the middle, smelling of wrestler's foot, tasting like earth and clouds. clearly, my life will be all downhill after tonight.
Valrhona Chocolate Souffle with White Chocolate Ice Cream
(Broadbent Colheita, Madeira 1995)
mrs nice guy is back in the game! she had been lagging the past two courses because, you see, she's "pregnant" and certain things are "not so appealing" to her. aha! molten chocolate lava souffle, richer than george soros, is apparently appealing. me, i like dessert just fine ... but i'd rather have some more of this madeira, sweet mother of yaweh!
the view from le balcon
anyway. the people sitting at the two tables next to us are sadly reprehensible (true snippets of conversation: "i am liberal in my heart, but conservative in my pocket book." "i live in umbria? i make wine."). what can you do? before we return to our room to sleep like pampered immortals, mrs nice guy and i are given a tour of the multimillion-dollar kitchen. it was, like everything else, awe inspiring. painted on the wall, above the entrance to the dining room, are the following words, a constant reminder to the cooks of the experience being had in their vaunted temple: Anticipation, Trepidation, Inspiration, Satisfaction, Evaluation. i think--the order might not be entirely accurate; i wasn't taking notes. but in this kitchen, the one kitchen that consistently cranks out the greatest meals in the country, there is a single glaring flaw. "Inspiration" is spelled wrong.
the lesson? even the best are not perfect.
we slept well that night.