'gah!' is for guppy
this, gentle reader, is the tiny guppy, at week 8.5, that is currently swimming inside mrs. nice guy. not our exact guppy, but a reasonable facsimile of what a healthy 8.5-week-old guppy under normal circumstances ought to look like. look closely, now: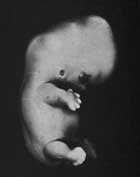 sweet and tangy yahweh! THAT IS INSIDE MY WIFE! (even mrs. nice guy herself admits to nearly gagging when she looks at this photo [fair enough, as we know, everything from water to oxygen makes her gag these days]). but this is cause for pause, dear sweet friend. what kind of sick, monstrous freaks are the nice guys?!
yeah, yeah. the miracle of life. blah diddy freakin' doo dah. have you ever seen V? when poor, unsuspecting blair tefkin is carrying the poison spawn of extra terrestrial colonists inside her fertile young womb? remember the horror of it all? of course you do! well, that's how we feel in nice guy estates today.

ps to that sweet, beautiful guppy child of mine: if by some cruel fluke of fate you are reading this entry in the distant future, CONGRATS! you apparently have a cerebral cortex! we were a little worried about you. please don't take anything too seriously here, your old man is just drunk again.